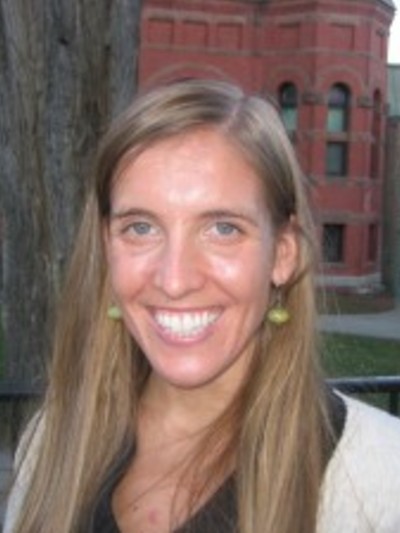 Sarah Gallo
Assistant Professor | Teaching and Learning
229B Ramseyer Hall
29 W Woodruff Ave
Areas of Expertise
Language, Education, & Society (LES)
Multicultural and Equity Studies in Education (MESE)
Education
Ph.D., Educational Linguistics, University of Pennsylvania (2013)
M.Ed., Curriculum & Instruction, Lesley University (2005)
B.A., Spanish, Bowdoin College (2003)
Sarah Gallo is an Assistant Professor of Teaching and Learning, whose research and teaching focus on bilingual and immigrant education. Dr. Gallo draws upon ethnographic and linguistic anthropological tools to explore the multilingual literacy and languaging resources that Latino immigrant children deploy and develop across home and school contexts. Her research on Mexican immigrant fathers and their children in an emerging Latino immigrant community during a period of strong anti-immigrant sentiment was supported by the National Science Foundation in Cultural Anthropology and the Spencer Foundation. Her research and teaching are motivated by a desire to improve educational possibilities for Latino immigrant students by preparing educators to recognize and build upon the traditional and innovative semiotic resources that immigrant students and families bring to their classrooms.
Her recent publications include Mi Padre: Mexican Immigrant Father and their Children's Education (New York: Teachers College Press, 2017); "Immigration Policy as Language Policy: Mexican Families; Decision-Making in Search of Bi-literacy for their Children", International Journal of Bilingualism (2017); "Exploring the Borderlands: Elementary School Teachers' Navigation of Immigration Practices in a new Latino Diaspora Community", Journal of Latinos and Education (2016); " 'Diles la verdad': Deportation policies, politicized funds of knowledge, and school in middle childhood", Dissolving Boundaries: Understanding Undocumented Students' Educational Experiences for Harvard Educational Review (2015).
Dr. Gallo is a faculty member in two areas of study: Language, Education, & Society (LES) and Multicultural and Equity Studies in Education (MESE). She is also an affiliated faculty member in Latino/a Studies.
People Filters: