Image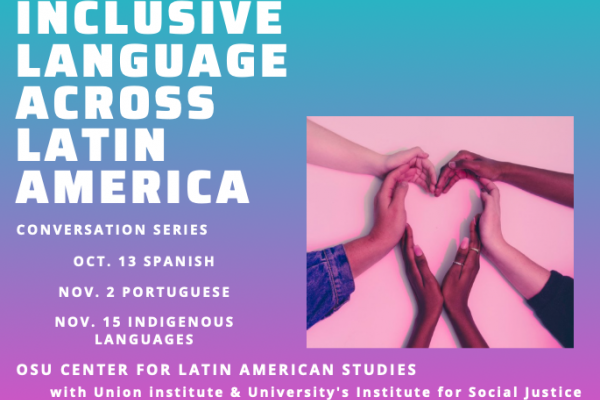 November 2, 2021
4:00PM - 6:00PM
Date Range
Add to Calendar
2021-11-02 16:00:00
2021-11-02 18:00:00
Inclusive Language: Portuguese
Join us via Zoom on Tues., Nov. 2, from 4-6pm (EST) for a conversation about inclusive language in Portuguese. Register here!     Meet the Panelists:    Nilma Dominique, PhD (she, ela) is a Lecturer in Portuguese. She teaches Portuguese from introductory to advanced levels and has developed the current curriculum of Portuguese language subjects at MIT. She also serves on the Board of the Massachusetts Foreign Language Association (MaFLA) and is a certified American Council on the Teaching of Foreign Languages (ACTL) proficiency rater in Portuguese. Dominique is co-editor of Microgeopolítica da língua portuguesa: açoes, desafios e perspectivas (2021) and author of La comunicación sin palabras. Estudio comparativo de gestos usados en España y Brasil (2012). Her pedagogical interests include non-verbal communication, sociolinguistics, and heritage language pedagogy.     Luana Moreira Reis (she, ela, ella) is a poet, educator and a Black feminist scholar. Born and raised in Feira de Santana, Bahia, Brazil she is currently a PhD student in Literature at the University of Pittsburgh, where she teaches Portuguese and researches Contemporary Black Women Literature and Maroonage. As founder and president of the ADDverse+Poesia Collective (@addversepoesia), she brings writers and audiences together across the hemisphere, using the power of poetry as a vehicle for engaging a range of issues – particularly race and gender, freedom and refuge, and language and identity.     Ronald Beline Mendes (he, ele) is Full Professor of Sociolinguistics at the University of São Paulo. His research focuses on the social meaning of linguistic variation (with a special interest in gender and sexuality) and the construction of styles (as recurring clusters of multiple linguistic variables).         Carlos Pio (he, she, they) holds a Ph.D. in Hispanic Languages and Literature with emphasis in Medieval Studies from the University of California, Santa Barbara. He is a Lecturer in Foreign Languages (Spanish and Portuguese) at the University of Pennsylvania.            Eduardo Viana da Silva (he) received his Ph.D. in Luso-Brazilian Literature with an emphasis in Applied Linguistics from University of California, Santa Barbara. He is an associate teaching professor and the coordinator of the Portuguese Program at the University of Washington in Seattle.           Moderator: Michele Saraiva Carilo, PhD (she, ela, ella) is the Coordinator for the Portuguese Language Program and Lecturer in Portuguese at the Ohio State University. Her research and practice focus on Portuguese as a Foreign/Additional Language, particularly how Critical and Intercultural Pedagogies are applied to Portuguese teaching and learning within multiple contexts for the promotion of pluriliteracies and intercultural awareness. Her latest publications include the chapter "Português como Língua Adicional para Hispanofalantes na Ohio State University: uma proposta de educação sob lentes críticas e interculturais" in Perspectivas do Ensino e da Aprendizagem de Português em Universidades nos Estados Unidos (Parábola Editora, 2021). She is currently editing a book on best practices and research related to Portuguese as an Additional Language in multiple sociocultural and linguistic contexts worldwide.       Recording:   Suggested resources for continued learning: Tirando de Letra: https://www.letraria.net/tirando-de-letra-portugues-brasileiro-para-estrangeiros/ Plural, UC Davis - eScholarship: https://escholarship.org/uc/item/9zs4s2p8 https://uw.pressbooks.pub/batepapo/  https://drive.google.com/file/d/1EyqG5xMcraDisGOQj4mE4g7jmKXVVLPt/view https://editoraurutau.com/titulo/memorais-poeticas-de-uma-byxa-travesty-preta-de-cortes  ADDverse+poesia: Facebook; Instagram; Newsletter on Flipsnack https://diversitybbox.com/pt/manifesto-ile-para-uma-comunicacao-radicalmente-inclusiva/ https://www.youtube.com/watch?v=WAzsxxMMlIM&t=142s
Zoom
OSU ASC Drupal 8
ascwebservices@osu.edu
America/New_York
public
Date Range
Add to Calendar
2021-11-02 16:00:00
2021-11-02 18:00:00
Inclusive Language: Portuguese
Join us via Zoom on Tues., Nov. 2, from 4-6pm (EST) for a conversation about inclusive language in Portuguese. Register here!     Meet the Panelists:    Nilma Dominique, PhD (she, ela) is a Lecturer in Portuguese. She teaches Portuguese from introductory to advanced levels and has developed the current curriculum of Portuguese language subjects at MIT. She also serves on the Board of the Massachusetts Foreign Language Association (MaFLA) and is a certified American Council on the Teaching of Foreign Languages (ACTL) proficiency rater in Portuguese. Dominique is co-editor of Microgeopolítica da língua portuguesa: açoes, desafios e perspectivas (2021) and author of La comunicación sin palabras. Estudio comparativo de gestos usados en España y Brasil (2012). Her pedagogical interests include non-verbal communication, sociolinguistics, and heritage language pedagogy.     Luana Moreira Reis (she, ela, ella) is a poet, educator and a Black feminist scholar. Born and raised in Feira de Santana, Bahia, Brazil she is currently a PhD student in Literature at the University of Pittsburgh, where she teaches Portuguese and researches Contemporary Black Women Literature and Maroonage. As founder and president of the ADDverse+Poesia Collective (@addversepoesia), she brings writers and audiences together across the hemisphere, using the power of poetry as a vehicle for engaging a range of issues – particularly race and gender, freedom and refuge, and language and identity.     Ronald Beline Mendes (he, ele) is Full Professor of Sociolinguistics at the University of São Paulo. His research focuses on the social meaning of linguistic variation (with a special interest in gender and sexuality) and the construction of styles (as recurring clusters of multiple linguistic variables).         Carlos Pio (he, she, they) holds a Ph.D. in Hispanic Languages and Literature with emphasis in Medieval Studies from the University of California, Santa Barbara. He is a Lecturer in Foreign Languages (Spanish and Portuguese) at the University of Pennsylvania.            Eduardo Viana da Silva (he) received his Ph.D. in Luso-Brazilian Literature with an emphasis in Applied Linguistics from University of California, Santa Barbara. He is an associate teaching professor and the coordinator of the Portuguese Program at the University of Washington in Seattle.           Moderator: Michele Saraiva Carilo, PhD (she, ela, ella) is the Coordinator for the Portuguese Language Program and Lecturer in Portuguese at the Ohio State University. Her research and practice focus on Portuguese as a Foreign/Additional Language, particularly how Critical and Intercultural Pedagogies are applied to Portuguese teaching and learning within multiple contexts for the promotion of pluriliteracies and intercultural awareness. Her latest publications include the chapter "Português como Língua Adicional para Hispanofalantes na Ohio State University: uma proposta de educação sob lentes críticas e interculturais" in Perspectivas do Ensino e da Aprendizagem de Português em Universidades nos Estados Unidos (Parábola Editora, 2021). She is currently editing a book on best practices and research related to Portuguese as an Additional Language in multiple sociocultural and linguistic contexts worldwide.       Recording:   Suggested resources for continued learning: Tirando de Letra: https://www.letraria.net/tirando-de-letra-portugues-brasileiro-para-estrangeiros/ Plural, UC Davis - eScholarship: https://escholarship.org/uc/item/9zs4s2p8 https://uw.pressbooks.pub/batepapo/  https://drive.google.com/file/d/1EyqG5xMcraDisGOQj4mE4g7jmKXVVLPt/view https://editoraurutau.com/titulo/memorais-poeticas-de-uma-byxa-travesty-preta-de-cortes  ADDverse+poesia: Facebook; Instagram; Newsletter on Flipsnack https://diversitybbox.com/pt/manifesto-ile-para-uma-comunicacao-radicalmente-inclusiva/ https://www.youtube.com/watch?v=WAzsxxMMlIM&t=142s
Zoom
Center for Latin American Studies
clas@osu.edu
America/New_York
public
Description
Join us via Zoom on Tues., Nov. 2, from 4-6pm (EST) for a conversation about inclusive language in Portuguese. Register here!
Meet the Panelists: 
Nilma Dominique, PhD (she, ela) is a Lecturer in Portuguese. She teaches Portuguese from introductory to advanced levels and has developed the current curriculum of Portuguese language subjects at MIT. She also serves on the Board of the Massachusetts Foreign Language Association (MaFLA) and is a certified American Council on the Teaching of Foreign Languages (ACTL) proficiency rater in Portuguese. Dominique is co-editor of Microgeopolítica da língua portuguesa: açoes, desafios e perspectivas (2021) and author of La comunicación sin palabras. Estudio comparativo de gestos usados en España y Brasil (2012). Her pedagogical interests include non-verbal communication, sociolinguistics, and heritage language pedagogy.
Luana Moreira Reis (she, ela, ella) is a poet, educator and a Black feminist scholar. Born and raised in Feira de Santana, Bahia, Brazil she is currently a PhD student in Literature at the University of Pittsburgh, where she teaches Portuguese and researches Contemporary Black Women Literature and Maroonage. As founder and president of the ADDverse+Poesia Collective (@addversepoesia), she brings writers and audiences together across the hemisphere, using the power of poetry as a vehicle for engaging a range of issues – particularly race and gender, freedom and refuge, and language and identity.
Ronald Beline Mendes (he, ele) is Full Professor of Sociolinguistics at the University of São Paulo. His research focuses on the social meaning of linguistic variation (with a special interest in gender and sexuality) and the construction of styles (as recurring clusters of multiple linguistic variables).
Carlos Pio (he, she, they) holds a Ph.D. in Hispanic Languages and Literature with emphasis in Medieval Studies from the University of California, Santa Barbara. He is a Lecturer in Foreign Languages (Spanish and Portuguese) at the University of Pennsylvania. 
Eduardo Viana da Silva (he) received his Ph.D. in Luso-Brazilian Literature with an emphasis in Applied Linguistics from University of California, Santa Barbara. He is an associate teaching professor and the coordinator of the Portuguese Program at the University of Washington in Seattle.
Moderator:
Michele Saraiva Carilo, PhD (she, ela, ella) is the Coordinator for the Portuguese Language Program and Lecturer in Portuguese at the Ohio State University. Her research and practice focus on Portuguese as a Foreign/Additional Language, particularly how Critical and Intercultural Pedagogies are applied to Portuguese teaching and learning within multiple contexts for the promotion of pluriliteracies and intercultural awareness. Her latest publications include the chapter "Português como Língua Adicional para Hispanofalantes na Ohio State University: uma proposta de educação sob lentes críticas e interculturais" in Perspectivas do Ensino e da Aprendizagem de Português em Universidades nos Estados Unidos (Parábola Editora, 2021). She is currently editing a book on best practices and research related to Portuguese as an Additional Language in multiple sociocultural and linguistic contexts worldwide.
Recording:
Suggested resources for continued learning:
Advanced
Text
The Inclusive Language across Latin America conversation series is co-organized by the OSU Center for Latin American Studies and Union Institute & University's Institute for Social Justice. 
Text
If you require an accommodation such as live captioning or interpretation to participate in this event, please contact Mark Hoff (hoff.96@osu.edu). Requests made one week in advance of the event will generally allow us to provide seamless access, but the university will make every effort to meet requests made after this date.
---