Image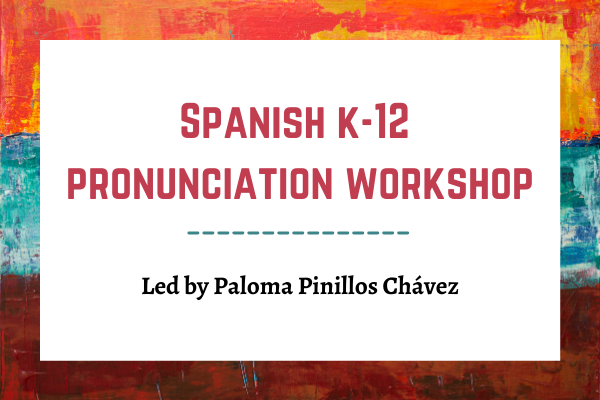 March 19, 2021
10:00AM - 12:00PM
Date Range
Add to Calendar
2021-03-19 10:00:00
2021-03-19 12:00:00
Spanish K-12 Pronunciation Workshop
The Center for Latin American Studies is excited to host this virtual Spanish K-12 Pronunciation Workshop for educators! Teachers who participate will receive 2 contact hours or .2 CEUs. Open to all teachers but most suitable for Spanish language K-12 educators. This 2-hour workshop will be led by Paloma Pinillos Chávez, PhD candidate in Hispanic Linguistics, Department of Spanish and Portuguese, The Ohio State University. The deadline to submit an application for registration is Friday, March 12, 2021 , or when we have reached 25 participants*. Space is limited. Accepted applicants will receive a confirmation email with Zoom link.   *If we have reached 25 participants, you will be placed on a waitlist. If you have any questions, please contact vocal.4@osu.edu.   Paloma Pinillos Chávez is a PhD candidate in Hispanic Linguistics. She is from Lima, Peru, where she studied her BA and MA in Linguistics. She studied in Spain for two years and got her MA in Phonetics and Phonology. Her primary research interest is the production and perception of English-Accented Spanish in the US. She studies the impact of English-Accented Spanish in the relationship between Latino patients and non-native Spanish speaking health professionals. Her work analyzes which phonetic and phonological cues of Spanish are perceived as non-native by Latino patients and how the perception of a non-native accent develops different levels of reliability with the health professional. Other academic interest include second language learning, technology-enhanced learning, and performance pedagogy within the Latinx community. File Spanish K12 Pronunciation Workshop Flyer6.16 MB     Click link below for PowerPoint:  File Palo Pinillos Chavez PPT1.87 MB  
Zoom
OSU ASC Drupal 8
ascwebservices@osu.edu
America/New_York
public
Date Range
Add to Calendar
2021-03-19 10:00:00
2021-03-19 12:00:00
Spanish K-12 Pronunciation Workshop
The Center for Latin American Studies is excited to host this virtual Spanish K-12 Pronunciation Workshop for educators! Teachers who participate will receive 2 contact hours or .2 CEUs. Open to all teachers but most suitable for Spanish language K-12 educators. This 2-hour workshop will be led by Paloma Pinillos Chávez, PhD candidate in Hispanic Linguistics, Department of Spanish and Portuguese, The Ohio State University. The deadline to submit an application for registration is Friday, March 12, 2021 , or when we have reached 25 participants*. Space is limited. Accepted applicants will receive a confirmation email with Zoom link.   *If we have reached 25 participants, you will be placed on a waitlist. If you have any questions, please contact vocal.4@osu.edu.   Paloma Pinillos Chávez is a PhD candidate in Hispanic Linguistics. She is from Lima, Peru, where she studied her BA and MA in Linguistics. She studied in Spain for two years and got her MA in Phonetics and Phonology. Her primary research interest is the production and perception of English-Accented Spanish in the US. She studies the impact of English-Accented Spanish in the relationship between Latino patients and non-native Spanish speaking health professionals. Her work analyzes which phonetic and phonological cues of Spanish are perceived as non-native by Latino patients and how the perception of a non-native accent develops different levels of reliability with the health professional. Other academic interest include second language learning, technology-enhanced learning, and performance pedagogy within the Latinx community.     Click link below for PowerPoint:   
Zoom
Center for Latin American Studies
clas@osu.edu
America/New_York
public
Description
The Center for Latin American Studies is excited to host this virtual Spanish K-12 Pronunciation Workshop for educators! Teachers who participate will receive 2 contact hours or .2 CEUs. Open to all teachers but most suitable for Spanish language K-12 educators. This 2-hour workshop will be led by Paloma Pinillos Chávez, PhD candidate in Hispanic Linguistics, Department of Spanish and Portuguese, The Ohio State University.
The deadline to submit an application for registration is Friday, March 12, 2021 , or when we have reached 25 participants*. Space is limited. Accepted applicants will receive a confirmation email with Zoom link.  
*If we have reached 25 participants, you will be placed on a waitlist. If you have any questions, please contact vocal.4@osu.edu.
Paloma Pinillos Chávez is a PhD candidate in Hispanic Linguistics. She is from Lima, Peru, where she studied her BA and MA in Linguistics. She studied in Spain for two years and got her MA in Phonetics and Phonology. Her primary research interest is the production and perception of English-Accented Spanish in the US. She studies the impact of English-Accented Spanish in the relationship between Latino patients and non-native Spanish speaking health professionals. Her work analyzes which phonetic and phonological cues of Spanish are perceived as non-native by Latino patients and how the perception of a non-native accent develops different levels of reliability with the health professional. Other academic interest include second language learning, technology-enhanced learning, and performance pedagogy within the Latinx community.
Click link below for PowerPoint: 
Advanced
Events Filters:
---