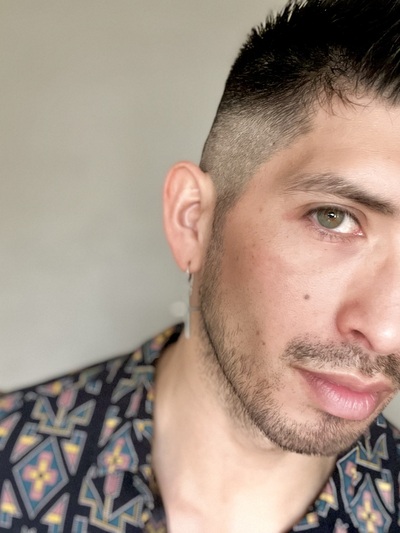 Alfonso Cervera
Assistant Professor, Department of Dance
he/él/they/them/elle
Areas of Expertise
Movement Practice
Choreography
Performance
Education
BA in Dance, University of California, Riverside
MFA in Experimental Choreography, University of California, Riverside
Alfonso Cervera (he/él/they/them/elle) holds an MFA in Experimental Choreography from the University of California, Riverside, and is a first-generation Queer Mexican American performer, educator, curator, and activist. His research and specialization as an independent artist, focuses on the conversation between Queerness, Ballet Folklorico, and Afro-Latine social dances in a contemporary auto-biographical embodied experience that he calls Poc-Chuc. Cervera is known for his emerging and inclusive technique Poc-Chuc, which has been described as a linking between "the sociality of the audience with the isolated frigidity of the concert stage...resulting in a world of untethered Mexican modernity." This inclusive dance technique weaves these cultural dances as a pedagogical, technical, and choreographic tool to acknowledge his lived experience, but to also re-imagine his own hybrid queered futurity. Cervera found Poc-Chuc Dance Collective in 2019 at Cornish College of the Arts and has since invited various practitioners and collaborators to co-create works from various localities. 
Part of Cervera's research and continued performance is being a co-founder and collaborator with Primera Generación Dance Collective (PGDC), a collaborative group based in Los Angeles & Riverside, California formed by Alfonso Cervera, Rosa Rodriguez-Frazier, Irvin Manuel Gonzalez, and Patricia "Patty" Huerta that focuses on the visibilization of Mexican American corporeality through movement-based exploration, process, and performance. The collective finds its roots in experimental choreography and research that focuses on Mexican American identity and its many marginalized connections. 
Having been awarded various grants and residencies such as the National Endowment for the Arts, Artist Trust, the Department of Cultural Affairs in Los Angeles, and the California Arts Council. His collaborative and independent works have been presented at UW-Milwaukee, UW-Whitewater, Cornish College of the Arts, Cal State San Marcos, David Herrera Performance Group, Contemporary Dance Festival -Florida, Judson Church Movement Research-NY, Festival of Latin Contemporary Choreographers (San Francisco), Red Cat (Los Angeles), Pieter Performance Space (Santa Monica, CA), Highways Performance Space (Santa Monica), Bushwick Studios (New York), and Lux Boreal's 4x4 in Tijuana Mexico to name a few. His work has also been presented at other numerous festivals, universities, and non-traditional spaces. He has performed for choreographers like Bill T. Jones, taisha paggett, Meg Wolfe, Sofia Carreras, Crystal Sepulveda, Li Chiao Ping, Sara Hook, Doug Varone, and Maria Gillespie. 
In addition, he's also one of the board members of Show Box L.A, a non-profit organization based in Los Angeles that highlights, supports, and curates dance works from LA BIPOC and LGBTQ+ artists. Cervera's methodologies and practices are a hybridization of his lived experience that extends beyond the classroom and find grounding in giving back to the community and building lasting relationships with artists and allies who seek to serve and provide for the next generation of artists. 
People Filters: