Image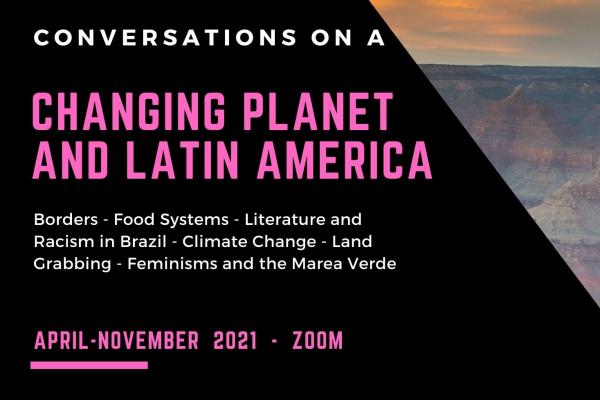 April 12 - November 30, 2021
12:00AM - 1:00AM
Date Range
Add to Calendar
2021-04-12 00:00:00
2021-11-30 01:00:00
Conversations on a Changing Planet and Latin America: A Series
The Abya Yala Student Organization, in collaboration with the Center for Latin American Studies, presents a new series of talks called, "Conversations on a Changing Planet and Latin America". This series will take place on Zoom, starting in April and ending in November of 2021 (see below for full schedule). All events are FREE and open to the public! The Conversations on a Changing Planet and Latin America covers a variety of topics for reflection and discussion that intend to reclaim our role as individuals and collective inhabitants of the continent of Abya Yala. From the impacts of a human induced climate change, to the violent dispossession of land suffered by indigenous and peasant communities, or the aggressive incorporation of the colonial food systems in our lives, too many groups of people have to struggle to survive in this changing planet. As a response, those who survive, are changing. They change their lives by moving, migrating, seeking for opportunities and escaping violence. Others stay and change the world they live in, sometimes by fighting racism and sexism, and protecting their lands, even at the cost of their own lives. Along human history, we know that change is the only stable thing, and as the song goes, "Así como todo cambia, que yo cambie no es extraño." Schedule of Events: Monday, April 12, 2021 (1:30pm EST) - ¿Por qué habría que abolir las fronteras? by Sara Riva Monday, May 3, 2021 (1:30pm EST) - Sistemas alimentarios indígenas by Dr. Armando Medinaceli Friday, May 28, 2021 (1:30pm EST) - Primeiro como tragédia, segundo como farsa: Escravidão, abolição e democracia racial na literatura e história brasileiras by Vladimir Rodrigues Check back soon for more! If you have any questions, please contact Gabriel Guzman Camacho at guzmancamacho.1@osu.edu. *If you require an accommodation such as live captioning or interpretation to participate in this event, please contact Mark Hoff at hoff.96@osu.edu. Requests made one week in advance of the event will generally allow us to provide seamless access, but the university will make every effort to meet requests made after this date.*
Zoom
OSU ASC Drupal 8
ascwebservices@osu.edu
America/New_York
public
Date Range
Add to Calendar
2021-04-12 00:00:00
2021-11-30 01:00:00
Conversations on a Changing Planet and Latin America: A Series
The Abya Yala Student Organization, in collaboration with the Center for Latin American Studies, presents a new series of talks called, "Conversations on a Changing Planet and Latin America". This series will take place on Zoom, starting in April and ending in November of 2021 (see below for full schedule). All events are FREE and open to the public! The Conversations on a Changing Planet and Latin America covers a variety of topics for reflection and discussion that intend to reclaim our role as individuals and collective inhabitants of the continent of Abya Yala. From the impacts of a human induced climate change, to the violent dispossession of land suffered by indigenous and peasant communities, or the aggressive incorporation of the colonial food systems in our lives, too many groups of people have to struggle to survive in this changing planet. As a response, those who survive, are changing. They change their lives by moving, migrating, seeking for opportunities and escaping violence. Others stay and change the world they live in, sometimes by fighting racism and sexism, and protecting their lands, even at the cost of their own lives. Along human history, we know that change is the only stable thing, and as the song goes, "Así como todo cambia, que yo cambie no es extraño." Schedule of Events: Monday, April 12, 2021 (1:30pm EST) - ¿Por qué habría que abolir las fronteras? by Sara Riva Monday, May 3, 2021 (1:30pm EST) - Sistemas alimentarios indígenas by Dr. Armando Medinaceli Friday, May 28, 2021 (1:30pm EST) - Primeiro como tragédia, segundo como farsa: Escravidão, abolição e democracia racial na literatura e história brasileiras by Vladimir Rodrigues Check back soon for more! If you have any questions, please contact Gabriel Guzman Camacho at guzmancamacho.1@osu.edu. *If you require an accommodation such as live captioning or interpretation to participate in this event, please contact Mark Hoff at hoff.96@osu.edu. Requests made one week in advance of the event will generally allow us to provide seamless access, but the university will make every effort to meet requests made after this date.*
Zoom
Center for Latin American Studies
clas@osu.edu
America/New_York
public
Description
The Abya Yala Student Organization, in collaboration with the Center for Latin American Studies, presents a new series of talks called, "Conversations on a Changing Planet and Latin America". This series will take place on Zoom, starting in April and ending in November of 2021 (see below for full schedule). All events are FREE and open to the public!
The Conversations on a Changing Planet and Latin America covers a variety of topics for reflection and discussion that intend to reclaim our role as individuals and collective inhabitants of the continent of Abya Yala. From the impacts of a human induced climate change, to the violent dispossession of land suffered by indigenous and peasant communities, or the aggressive incorporation of the colonial food systems in our lives, too many groups of people have to struggle to survive in this changing planet. As a response, those who survive, are changing. They change their lives by moving, migrating, seeking for opportunities and escaping violence. Others stay and change the world they live in, sometimes by fighting racism and sexism, and protecting their lands, even at the cost of their own lives. Along human history, we know that change is the only stable thing, and as the song goes, "Así como todo cambia, que yo cambie no es extraño."
Schedule of Events:
Check back soon for more!
---
If you have any questions, please contact Gabriel Guzman Camacho at guzmancamacho.1@osu.edu.
*If you require an accommodation such as live captioning or interpretation to participate in this event, please contact Mark Hoff at hoff.96@osu.edu. Requests made one week in advance of the event will generally allow us to provide seamless access, but the university will make every effort to meet requests made after this date.*
Events Filters:
---