Image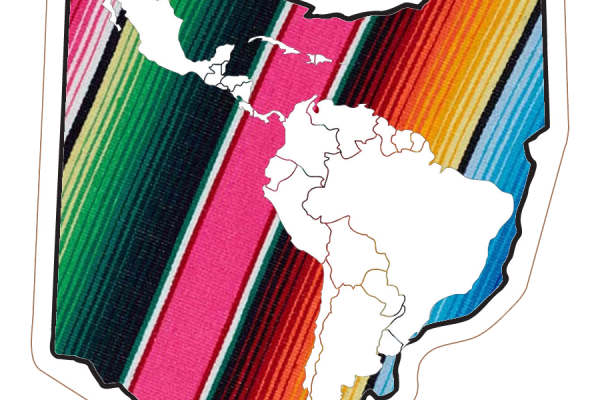 February 28 - February 29, 2020
12:00AM - 12:00AM
Location
Ohio University, Athens, OH
Date Range
Add to Calendar
2020-02-28 01:00:00
2020-02-29 01:00:00
17th Annual Ohio Latin Americanist Conference
The Department of Modern Languages at Ohio University, Athens is to host the 17th annual Ohio Latin Americanist Conference (OLAC). All Latin Americanists and Latinx Studies scholars, educators, and students from institutions of higher education are invited to participate in this annual meeting. Participants do not have to be from Ohio to present/attend. This year's conference will feature guest speaker Dr. Brenda Elsey, Associate Professor of History at Hofstra University. In addition, free entertainment will be offered Friday night to include music and the presentation of a play.  Registration*Students: $25Faculty: $50*Cost of registration includes breakfast and keynote speaker on Saturday with coffee and snacks both days. Call for ProposalsAll proposals are welcome and may include (but are not limited to) literature, linguistics, history, education, geography, political science, economics, anthropology, sociology, art, area studies such as cultural, international, women's, gender, ethnic, and sexuality studies and film and cinema studies. We also invite proposals related to the natural sciences, environmental science, bioethics, and other fields underrepresented in past OLAC conferences. We will also provide panels with creative writing, a tradition that began in 2017, and an opportunity for shorter 10-minute mini-presentations. The deadline to submit proposals is Friday, December 6, 2019. Submit proposals here.  For questions regarding proposal submissions, please contact Betsy Partyka at partyka@ohio.edu.For more information on OLAC, please visit: https://modlang.ohio.edu/OLAC20/ 
Ohio University, Athens, OH
OSU ASC Drupal 8
ascwebservices@osu.edu
America/New_York
public
Date Range
Add to Calendar
2020-02-28 00:00:00
2020-02-29 00:00:00
17th Annual Ohio Latin Americanist Conference
The Department of Modern Languages at Ohio University, Athens is to host the 17th annual Ohio Latin Americanist Conference (OLAC). All Latin Americanists and Latinx Studies scholars, educators, and students from institutions of higher education are invited to participate in this annual meeting. Participants do not have to be from Ohio to present/attend. This year's conference will feature guest speaker Dr. Brenda Elsey, Associate Professor of History at Hofstra University. In addition, free entertainment will be offered Friday night to include music and the presentation of a play.  Registration*Students: $25Faculty: $50*Cost of registration includes breakfast and keynote speaker on Saturday with coffee and snacks both days. Call for ProposalsAll proposals are welcome and may include (but are not limited to) literature, linguistics, history, education, geography, political science, economics, anthropology, sociology, art, area studies such as cultural, international, women's, gender, ethnic, and sexuality studies and film and cinema studies. We also invite proposals related to the natural sciences, environmental science, bioethics, and other fields underrepresented in past OLAC conferences. We will also provide panels with creative writing, a tradition that began in 2017, and an opportunity for shorter 10-minute mini-presentations. The deadline to submit proposals is Friday, December 6, 2019. Submit proposals here.  For questions regarding proposal submissions, please contact Betsy Partyka at partyka@ohio.edu.For more information on OLAC, please visit: https://modlang.ohio.edu/OLAC20/ 
Ohio University, Athens, OH
Center for Latin American Studies
clas@osu.edu
America/New_York
public
Description
The Department of Modern Languages at Ohio University, Athens is to host the 17th annual Ohio Latin Americanist Conference (OLAC). All Latin Americanists and Latinx Studies scholars, educators, and students from institutions of higher education are invited to participate in this annual meeting. Participants do not have to be from Ohio to present/attend. This year's conference will feature guest speaker Dr. Brenda Elsey, Associate Professor of History at Hofstra University. In addition, free entertainment will be offered Friday night to include music and the presentation of a play.
Registration*
Students: $25
Faculty: $50
*Cost of registration includes breakfast and keynote speaker on Saturday with coffee and snacks both days.
Call for Proposals
All proposals are welcome and may include (but are not limited to) literature, linguistics, history, education, geography, political science, economics, anthropology, sociology, art, area studies such as cultural, international, women's, gender, ethnic, and sexuality studies and film and cinema studies. We also invite proposals related to the natural sciences, environmental science, bioethics, and other fields underrepresented in past OLAC conferences. We will also provide panels with creative writing, a tradition that began in 2017, and an opportunity for shorter 10-minute mini-presentations. The deadline to submit proposals is Friday, December 6, 2019.
For questions regarding proposal submissions, please contact Betsy Partyka at
partyka@ohio.edu
.
Events Filters:
---