Image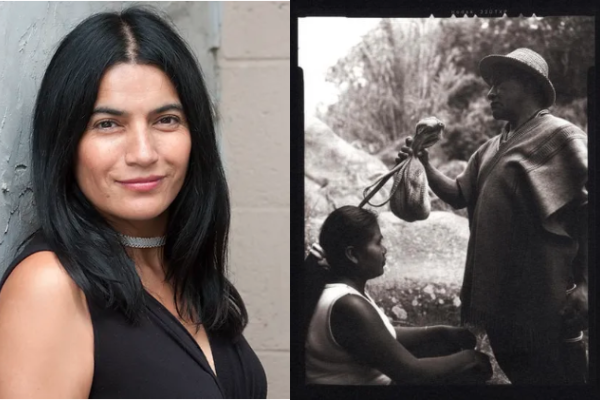 November 3, 2022
11:30AM - 1:00PM
Location
Barnett Center Collaboratory (141 Sullivant Hall)
Date Range
Add to Calendar
2022-11-03 10:30:00
2022-11-03 12:00:00
Coca & the Amazon: The Photographic & Community Work of Alexandra McNichols-Torroledo
Join us on Thursday, November 3rd in the Barnett Center Collaboratory to learn about the photographic and community work of Colombian and American photographer Alexandra McNichols-Torroledo. Presentation: 11:30 AM - 12:30 PM  "Meet the Artist" and Mini Reception: 12:30 - 1 PM   This event counts toward the Diversity, Intercultural and Community Engagement (DICE) Certificate Program.   More about Alexandra's work Learn more about Alexandra McNichols-Torroledo's work with the communities in this interview for Revista Enfoque Visual and the Latin American Photography Foundation and check out this video about printed materials on coca paper! Esx/coca paper workshop with community members of the Nasa indigenous peoples of Colombia
Barnett Center Collaboratory (141 Sullivant Hall)
OSU ASC Drupal 8
ascwebservices@osu.edu
America/New_York
public
Date Range
Add to Calendar
2022-11-03 11:30:00
2022-11-03 13:00:00
Coca & the Amazon: The Photographic & Community Work of Alexandra McNichols-Torroledo
Join us on Thursday, November 3rd in the Barnett Center Collaboratory to learn about the photographic and community work of Colombian and American photographer Alexandra McNichols-Torroledo. Presentation: 11:30 AM - 12:30 PM  "Meet the Artist" and Mini Reception: 12:30 - 1 PM   This event counts toward the Diversity, Intercultural and Community Engagement (DICE) Certificate Program.   More about Alexandra's work Learn more about Alexandra McNichols-Torroledo's work with the communities in this interview for Revista Enfoque Visual and the Latin American Photography Foundation and check out this video about printed materials on coca paper!
Barnett Center Collaboratory (141 Sullivant Hall)
Center for Latin American Studies
clas@osu.edu
America/New_York
public
Advanced
About the Artist
Text
Alexandra McNichols-Torroledo is a Colombian photographer, artist, and journalist who has worked with indigenous communities affected by mega-projects imposed on their territories for over ten years in South and North America. In her talk, she will present her photographic project: ESX/COCA (leaves) on the sacred nature of the coca plant by the Nasa indigenous of Colombia, and the deforestation of the Amazon rainforest in Brazil faced by the ancestral Mura indigenous people.
Alexandra's work has been exhibited and lectured in Colombia, Dominican Republic, and America. Her articles have been published in El Espectador (Colombia), The Guardian (UK), Trib-Star (Indiana), and the magazine Semana Sostenible (Colombia). More recently, local media in Indiana like the Tribune-Star showcased Alexandra's work in the Andes. This year, she won the Artist Trajectory Grant from the Colombian Ministry of Culture for her artistic work on ESX/COCA. Alexandra recently became the first Latina to exhibit at the Swope Art Museum, in Terre Haute, Indiana, where she currently resides. and her work was celebrated in the community for Latin Heritage Month.
Events Filters:
---