Image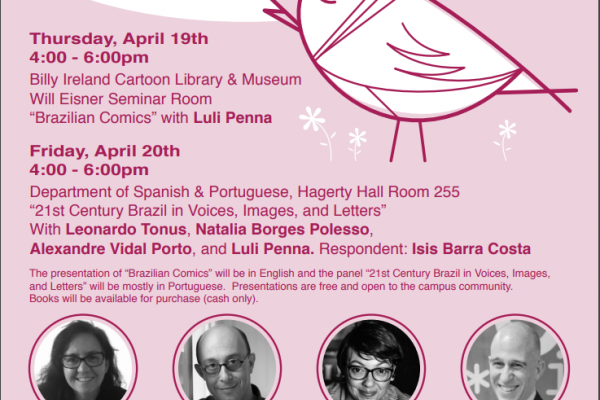 April 19 - April 20, 2018
4:00PM - 6:00PM
Location
Billy Ireland Cartoon Library & Museum (Will Eisner Seminar Room); Hagerty Hall Room 255
Date Range
Add to Calendar
2018-04-19 16:00:00
2018-04-20 18:00:00
First OSU Brazilian Literary Spring
The First OSU Brazilian Literary Spring brings four Brazilian writers to OSU to share their work.On Thursday, April 19th, Luli Penna will present on "Brazilian Comics." This talk will take place from 4:00 - 6:00 pm in the Will Eisner Seminar Room in the Billy Ireland Cartoon Library & Museum. The talk will be in English and books will be available for purchase (cash only).On Friday, April 20th, OSU Professor Isis Barra Costa will moderate a panel on "21st Century Brazil in Voices, Images, and Letters." Panelists include: Luli Penna, Leonardo Tonus, Natalia Borges Polesso, and Alexandre Vidal Porto. This panel will be mainly in Portuguese and will take place from 4:00 - 6:00 pm in Hagerty Hall Room 255. There will also be books available for purchase.For more information about the presenters, please visit the official event page from the Department of Spanish and Portuguese: https://sppo.osu.edu/events/first-osu-brazilian-literary-springTo read samples of the presenters' work, you may visit the following DropBox link: https://www.dropbox.com/s/yh9dsrp4vaiz5b6/Petit%20Trailer%20%28A%20few%20selected%20texts%20for%20the%20Primavera%20Liter%C3%A1ria%29.pdf?dl=0   
Billy Ireland Cartoon Library & Museum (Will Eisner Seminar Room); Hagerty Hall Room 255
OSU ASC Drupal 8
ascwebservices@osu.edu
America/New_York
public
Date Range
Add to Calendar
2018-04-19 16:00:00
2018-04-20 18:00:00
First OSU Brazilian Literary Spring
The First OSU Brazilian Literary Spring brings four Brazilian writers to OSU to share their work.On Thursday, April 19th, Luli Penna will present on "Brazilian Comics." This talk will take place from 4:00 - 6:00 pm in the Will Eisner Seminar Room in the Billy Ireland Cartoon Library & Museum. The talk will be in English and books will be available for purchase (cash only).On Friday, April 20th, OSU Professor Isis Barra Costa will moderate a panel on "21st Century Brazil in Voices, Images, and Letters." Panelists include: Luli Penna, Leonardo Tonus, Natalia Borges Polesso, and Alexandre Vidal Porto. This panel will be mainly in Portuguese and will take place from 4:00 - 6:00 pm in Hagerty Hall Room 255. There will also be books available for purchase.For more information about the presenters, please visit the official event page from the Department of Spanish and Portuguese: https://sppo.osu.edu/events/first-osu-brazilian-literary-springTo read samples of the presenters' work, you may visit the following DropBox link: https://www.dropbox.com/s/yh9dsrp4vaiz5b6/Petit%20Trailer%20%28A%20few%20selected%20texts%20for%20the%20Primavera%20Liter%C3%A1ria%29.pdf?dl=0   
Billy Ireland Cartoon Library & Museum (Will Eisner Seminar Room); Hagerty Hall Room 255
Center for Latin American Studies
clas@osu.edu
America/New_York
public
Description
The First OSU Brazilian Literary Spring brings four Brazilian writers to OSU to share their work.
On Thursday, April 19th, Luli Penna will present on "Brazilian Comics." This talk will take place from 4:00 - 6:00 pm in the Will Eisner Seminar Room in the Billy Ireland Cartoon Library & Museum. The talk will be in English and books will be available for purchase (cash only).
On Friday, April 20th, OSU Professor Isis Barra Costa will moderate a panel on "21st Century Brazil in Voices, Images, and Letters." Panelists include: Luli Penna, Leonardo Tonus, Natalia Borges Polesso, and Alexandre Vidal Porto. This panel will be mainly in Portuguese and will take place from 4:00 - 6:00 pm in Hagerty Hall Room 255. There will also be books available for purchase.
For more information about the presenters, please visit the official event page from the Department of Spanish and Portuguese: https://sppo.osu.edu/events/first-osu-brazilian-literary-spring
To read samples of the presenters' work, you may visit the following DropBox link: https://www.dropbox.com/s/yh9dsrp4vaiz5b6/Petit%20Trailer%20%28A%20few%20selected%20texts%20for%20the%20Primavera%20Liter%C3%A1ria%29.pdf?dl=0
Events Filters:
---