April 14, 2023
Andor (2022): An interview with director Vitor Vilaverde
Image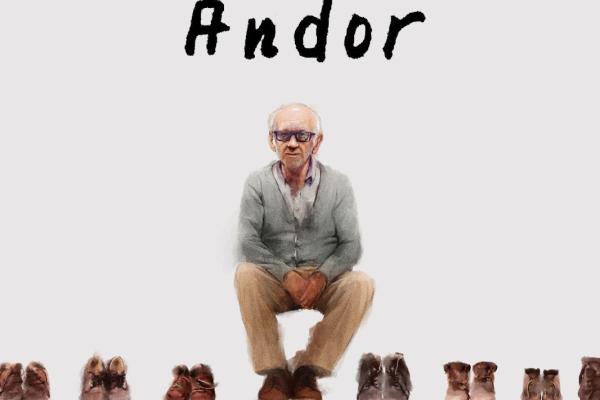 Description
On April 25, CLAS will be showing the documentary, Andor (2022), as part of the ongoing film series on Latin American subjectivities in situations of conflict. The documentary follows Andor Stern, the only Brazilian-born Holocaust survivor, as he reflects on his deportation to Auschwitz and experience in Dachau. The film is directed by Vitor Vilaverde Dias, a Ph.D. candidate in the Department of Spanish and Portuguese. Vilaverde kindly agreed to an interview with CLAS Spring Student Intern Ella Meyer to talk more about the documentary. 
Trailer:
What inspired you to make this documentary, and how does it relate to your current research?
After reading the book Uma estrela na escuridão/A Star in the Darkness (Gabriel Davi Pierin) that tells the story of Andor Stern, fear was the affect that inspired me for my approach to him. I wanted to learn how his ideas of freedom and humanist way of living life were able to overcome the fear of living in a world with so much hate. My current research deals with documentary filmmaking, archive and affects, which is all there in the film. The curious and interesting story is why I was reading the book, which leads me to the next question. 
 
Why did you choose Andor Stern as the subject of this documentary, and what did you learn about him while making this film?
I didn't choose him, chance chose me to make this documentary. One day, a girl and a boy that I have never met – Nathália and Renato – watched a lecture about the Holocaust presented by Andor and Gabriel. Then, they took the book to the Instituto Querô, a Brazilian non-profit institution that seeks to promote access to art and culture and stimulate the human and citizen transformation of low-income youth by training the students in audiovisual production, aiming to collaborate with the reduction of social inequality. The coincidence is that both Nathália, Renato and I had been students at the Instituto Querô in different years. The book was brought to Querô right after I had finished working on a TV series with them, I was there at the right time with the right people. 
I have learned that when we find people and groups of people that share good ideas about the world, we keep these good people nearby and collaborate. Both Andor, the Querô "family", Gabriel and I were sharing concerns on the increase of hate speech in Brazil, it seemed that the only way out was to stay together and collaborate, that was right before I got accepted at Ohio State. During that journey making the film a lot of good people joined the group with good ideas. When I commented with my advisor here at the time, Dr. Isis Barra Costa, I was apprehensive that I would have to make the film as a "side-job" while doing research here, but she offered me a lot of support to translate works that sometimes are very different – the academic, and the filmmaking. 
 
What would you most like viewers to know before watching Andor?
There are a lot of stories, but I would say to take a look on the work we do at Querô if have a chance. Also, it's important to understand that the modes of production, and ways of sharing knowledge are community based.
 
What lessons or impressions do you want your audiences, either in Brazil or here at Ohio State, to take away from the film?
It depends on the moment each one is experiencing when they go to watch the film. But, right now, I'm interested in understanding how a memory or a projection within the imagination can work freely in a system made to imprison.
 
The April 25th film screening on campus will feature a Q&A with you. What topics are you most looking forward to discussing with the audience?
I'm open to seeing what the moment brings! Each audience is interested in discussing different things. 
Andor will be shown on Tuesday, April 25th from 6 - 9 p.m. in 180 Hagerty Hall. The event is free and open to the public! There will be a Q&A after the screening which will give audience members the chance to ask Vitor additional questions. 
To learn more about Stern:  
Jewish Telegraphic Agency: "Brazilian-born Holocaust survivor has bar mitzvah at age 91"
The Times of Israel: "Andor Stern, recognized as the only Brazilian-born Holocaust survivor, dies at 94" 
---