May 28, 2021
Area Studies Global Comics Lecture Series Wrap-up
Image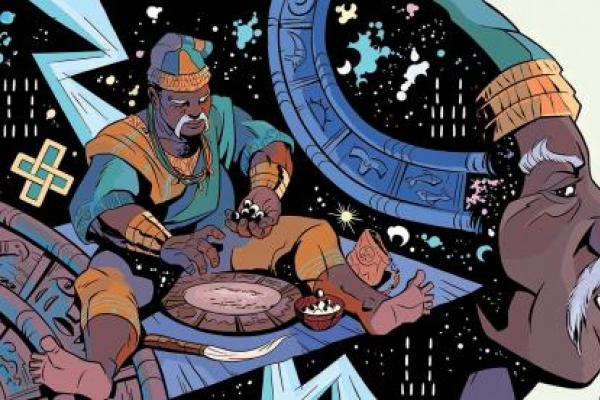 Description
To further develop and enhance area studies research and dialogue at Ohio State, the area studies centers of the Office of International Affairs launched the OIA Area Studies Center Conference Grant program in 2019. In its inaugural year, the committee awarded Prof. Nena Couch, head of area studies and Thompson Library Special Collections at University Libraries, for her proposal, "Area Studies Global Comics Lecture Series." With the funding, her team launched a series of nine lectures on global comics spanning Autumn 2019 to Spring 2021 which reached more than 1,000 attendees from both Ohio State and 85 additional academic institutions, five cultural institutions, four K-12 schools, as well as other scholars, artists, government employees and community members.
Lectures focused on comics in regions represented by OSU's centers focused on African, East Asian, Latin American, Middle East, and Slavic, East European and Eurasian studies. The series built on Ohio State's strengths in faculty expertise and librarians' experience developing public programming related to comics. The team of area studies librarians, curators and moderators, including Ann Marie Davis, Magda El-Sherbini, Pamela Espinosa de los Monteros, Caitlin McGurk, Moroljub Ruzic and Johanna Sellman, worked with Couch to plan the series and with faculty to embed the lectures and their topics into courses, when possible. Further, by moving some of the lectures to a virtual presentation platform during the pandemic, attendance increased dramatically and continues to rise as three of the lectures are posted on the University Libraries' YouTube channel while recordings of two others are available upon request.
"We feel that the success of this series which used comics to examine migration/immigration from Latin American and Japanese perspectives, disability in Russia, street art activism in the Middle East, the stories that flea market finds can tell about Eastern European and World War II history, slavery and the struggle for freedom in Brazil, art, culture and mythology of Brazil and Latin America, healing trauma through art, and the real-life impact of a Chinese comic character, has demonstrated that comics are a powerful means of story-telling and tool for global citizenship instruction," said Couch.
For Latin America, the series featured two lectures by prominent figures in Brazilian comics. Artist, illustrator, and professor Marcelo D'Salete discussed his graphic novels Cumbe (Run for it) and Angola Janga (Kingdom of Runaway Slaves), which explore the history of slavery and struggles for freedom in colonial Brazil. Author, illustrator, and architect Hugo Canuto presented a talk titled "The Making of Tales of the Orishas" in which he explored the relationship between art, culture, and the mythology of Brazil and Latin America. These two Latin American lectures were also part of the Afro-Brazilian Arts and Activism series organized by Isis Barra-Costa and Lúcia Costigan of the Department of Spanish and Portuguese, with sponsorship from the Center for Latin American Studies.
The OIA Area Studies Center Conference Grant Program is supported by US Department of Education Title VI grants for OSU's Center for Latin American Studies, Center for Slavic, East European, and Eurasian Studies and East Asian Studies Center. Support was also provided by the Area Studies Department of University Libraries and from Asian American Studies, the Department of Spanish and Portuguese and the Billy Ireland Cartoon Library and Museum.
---
A special thanks to Amy Carey of East Asian Studies for preparation of this article.
---