March 9, 2022
CLAS co-sponsors 2022 Ohio Latin Americanist Conference
Image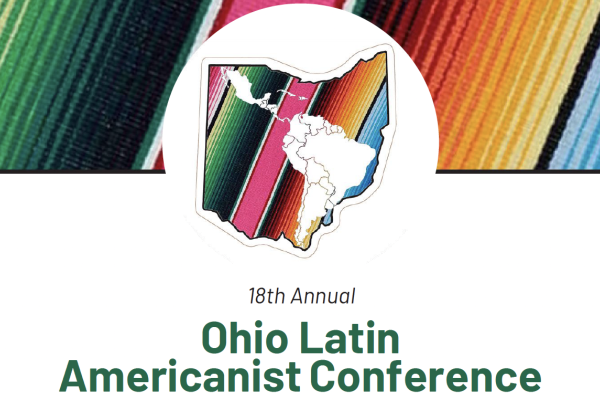 Description
On February 25-26, 2022, OSU's Center for Latin American Studies partnered with Ohio University's Department of Modern Languages and Latin American Studies program to host the 18th Annual Ohio Latin Americanist Conference (OLAC), an academic gathering originally created at OSU. 
This year's conference, held on the Ohio University campus in Athens and organized by OU professors Betsy Partyka and José Delgado, brought together an interdisciplinary group of high school, undergraduate, and graduate students; teachers; professors; academic staff; and independent scholars. OLAC has always prided itself on accessibility to first-time presenters and local scholars, but this year's hybrid modality allowed for significant international participation as well.
OLAC 2022 featured over 65 presentations in 19 panel sessions, a musical performance by El son del Caribe, a capoeira demonstration by OU student Julio Beltrán, and creative readings by members of the OU chapter of Sigma Delta Pi.
The keynote address, delivered by Columbus native Kevin Zamora, Esq., was entitled "Nuestro Quilombo: A Glimpse of the Chaotic World of Immigration Law" and focused on the obstacles faced by Latin American arrivals to the US with different immigration statuses. 
OSU was well represented at OLAC, with presentations spanning a variety of topics and disciplines:
Examining Latinx and Latin American themes in children's literature: In and beyond the K-12 classroom: Pamela Espinosa de los Monteros (Libraries), Patricia Vocal (CLAS), & Mark Hoff (CLAS)
 
Redefiniendo la protesta indígena en los Andes: Representaciones en (y a través de) la literatura y los medios audiovisuales: Adriana Rojas Castro (SPPO)
 
Lina Bo Bardi, drawings inspiring and materializing into architecture: Aimée Moore (Knowlton School)
 
Música de entrada de la lucha libre mexicana: Hannah Grace Morrison (SPPO)
 
'Na terra dos orixas': Contributions of Yoruba gods to Afro-Brazilian culture and poetry: Ayodeji Olugbuyiro (SPPO)
 
Escritura y cuerpo: el archivo de dos subjetividades femeninas en el Quito del siglo XVII: Andrea Armijos Echeverría (SPPO)
 
The direct and indirect challenges of COVID-19 for nutrition in Indigenous Mexico: Andrew Mitchel & Jeffrey Cohen (Anthropology)
 
Women's dialogues in the Brazilian diaspora: Online literary dynamics of Black communities during the COVID-19 pandemic: Jacqueline Sampaio (SPPO)
 
Defending 'Boat Mules': The Scripting of Latin America by US Defense Attorneys: Kendra McSweeney (Geography)
Access the full conference program here to see the wide variety of talks presented by scholars from other institutions.
CLAS wishes to heartily thank the OLAC Steering Committee, as well as the undergraduate and graduate aides-de-camp, for making OLAC 2022 the success it was! We look forward to OLAC 2023, to be held again at OU.
CLAS support of OLAC is made possible by its Title VI grant from the US Department of Education.
News Filters:
---