August 1, 2022
CLAS Supports Black Studies Across the Americas Project
Image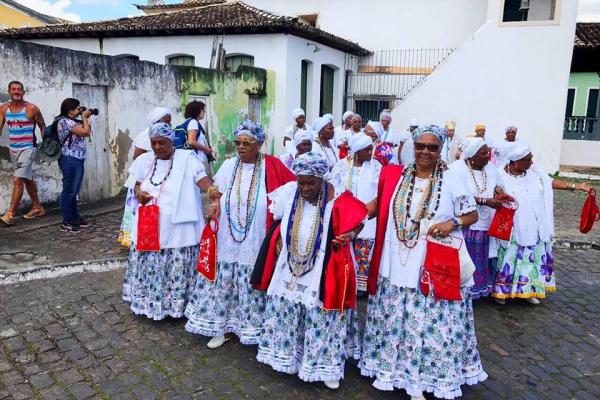 Description
For the past two years, CLAS has enjoyed a fruitful collaborative relationship with Borough of Manhattan Community College, partnering with Dr. Judith Anderson of the Department of Ethnic and Race Studies on programming related to the visibility and legal rights of Afro-descendants in Argentina.
In Spring 2022, CLAS partnered with Dr. Anderson and her co-organizers in the Department of Ethnic and Race Studies and Office of Internships and Experiential Learning on the Black Studies Across the Americas (BSAA) project, offering support through Title VI National Resource Center funding from the US Department of Education. BSAA brings together faculty, community leaders, and student researchers from the US, Argentina, Brazil, and the Dominican Republic to develop Open Educational Resources related to ethnic studies in order to help integrate Black studies into disciplines where Blackness and questions of race and ethnicity are not commonly addressed. 
Henrique Yagui Takahashi, a PhD student of Latin American Cultural and Literary Studies in OSU's Department of Spanish and Portuguese (SPPO), worked throughout the spring semester as a Graduate Research Assistant, mentoring BSAA students and helping them to develop lesson plans on Afro-Brazilian music and laws regulating Black lives in Brazil. Henrique's research at OSU is concerned with race and ethnicity in Latin America, and his dissertation addresses Orientalism and anti-Blackness in Brazil; this experience and expertise was an invaluable asset to the BSAA project.
The experience was just as beneficial to Henrique as it was to the students he mentored:
"Being part of the Black Studies Across the Americas (BSAA) project was one of the most significant experiences living in the US as an international student and a scholar of color. In addition to being my first time working in a US-American community college. At BMCC, I could work in an academic environment where a large number of students are from low-income backgrounds and racial and ethnic minority groups. Thus, the BSAA project supported me in developing educational tools to create lesson plans and critical thinking skills based on social justice. Furthermore, it allowed me to work with Race and Ethnic Studies from a transnational perspective through collaboration with international organizations and collaborators from Argentina, Dominican Republic, Brazil, and the US."
Jacqueline Sampaio, a PhD student in SPPO's Studies of the Portuguese-speaking World program, contributed to BSAA as a volunteer. She helped to develop a lesson plan on the Black experience abroad and in the US. Specifically, this OER compares the experiences of African-Americans to other Afro-descendant groups in the US, including Africans, Afro-Latin Americans, and Afro-descendant immigrants from the Caribbean. Jacqueline's dissertation research on Black women in contemporary Brazilian and Portuguese literature offered the students she worked with a valuable transnational perspective.
Jacqueline enjoyed the experience and hopes other institutions will develop similar programs: 
"It was amazing to participate in this project. To know that the universities want to create courses and projects focused in Black people and use their voices to build them is such an amazing idea and I really hope that the project continues and other universities decide to do the same in the future."
In addition to the OERs that Henrique and Jacqueline helped create, BSAA students also created curricular resources related to anti-Blackness in the Dominican Republic, Dominican spaces and public figures around New York City,  and the history of and controversies surrounding Blackface in the US. View the full listing of OERs here.
CLAS looks forward to future collaboration with and support of BSAA. Stay tuned for details about plans for Autumn 2022 and ways to get involved!
Advanced
Text
In addition to the contributions of OSU CLAS, the BSAA project is also supported by Title VI NRC funding from the NYU Center for Latin American and Caribbean Studies, the BMCC Dept. of Ethnic and Race Studies, and the President's Fund for Innovation and Excellence, funded by McKenzie Scott.
---