November 15, 2021
Congratulations To Our Autumn 2021 Whitten Scholarship Awardees!
Image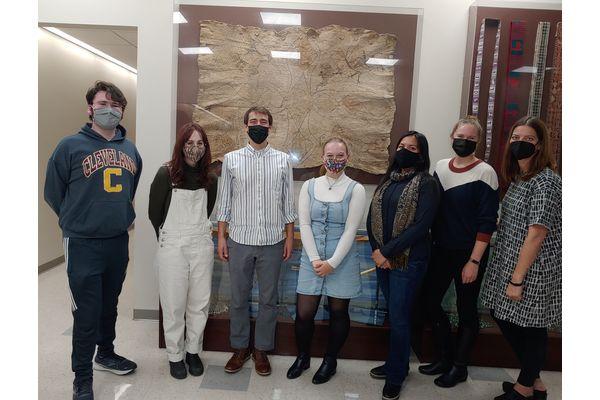 Description
Each semester the exceptional work and research that student curators undertake with the newly renamed Kawsay Ukhunchay: Andean and Amazonian Indigenous Art and Cultural Artifacts Collection is recognized by way of the Whitten Andean & Amazonian Studies Scholarship.
This semester's awardees, who work under the guidance of Faculty Curator Michelle Wibbelsman, are:
Cameron Logar (Major: Biochemistry; Minors: Spanish, Andean & Amazonian Studies)
Anna Freeman (Ph.D. Student in Arts Admin., Education and Policy)
Amanda Tobin Ripley (Ph.D. Student in Arts Admin., Education and Policy)
Hallie Fried (Majors: International Studies, Spanish; Minor: Public Policy)
Tamryn McDermott (Ph.D. Student in Arts Admin., Education and Policy)
Emily Brokamp (MA student in History)
Micah Unzueta (Major: Spanish; Minors: Andean & Amazonian Studies, Education, International Studies)
Recent alumna Kelly Tobin (Majors: English, Spanish; not pictured above) has also continued to work with the collection after graduation.
Professor Wibbelsman and the curators engage in a unique combination of research, teaching, and outreach. The team's hard work and expertise were on full display at the October 5th Tukuypaq Open House, where they demonstrated their training as kawsay waqaychaqkuna by guiding attendees through the collection, offering Quechua language and Andean weaving workshops, and leading interactive community activities. Throughout the event, attendees were encouraged to decolonize their thinking about art and to consider the Indigenous approaches to knowledge that the student curators have been learning and adopting throughout the semester.
Cameron Logar describes the curatorial experience as one that shaped his worldview in important ways:
Through the collection, my eyes have been opened to a wealth of new perspectives towards concepts I once considered definitive. Ideas of time and space, nature and culture, and the spiritual and the material have all been subjects that I have gained new views on. I have had the fortune of discovering fields of study I had never heard of, and yet resonate perfectly with my interests. 
Hallie Fried's experience was also transformative, and her learning is ongoing: 
[I have been] collaborating with other curators across varying disciplines to learn about not just Andean art, but South American culture, museum curation, Quechua, and indigenous worldviews [...] From this, I was inspired to continue having dialogues with indigenous artists, educators, and activists. I became fascinated with the idea of decolonizing education and teaching through art.
Congratulations once again to our student curators!
The Andean and Amazonian Indigenous Art and Cultural Artifacts Collection is permanently housed in the Department of Spanish and Portuguese in Hagerty Hall 255 and supported by the Department of Spanish and Portuguese, the Center for Latin American Studies, and a generous private donation from Dr. Norman Whitten. To learn more about the collection please visit the AAAC website and the K'acha Willaykuna main website.
News Filters:
---