May 2, 2022
Congratulations To Our Spring 2022 Whitten Scholarship Awardees!
Image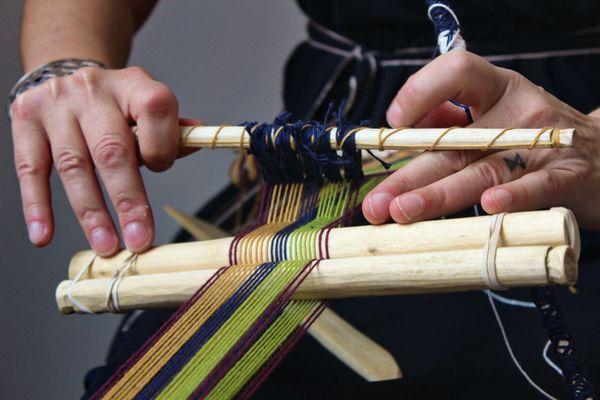 Description
Each semester the exceptional work and research that student curators undertake with the Kawsay Ukhunchay: Andean and Amazonian Indigenous Art and Cultural Artifacts Research Collection is recognized through the awarding of the Whitten Andean & Amazonian Studies Scholarship.
This semester's awardees, who work under the guidance of Faculty Curator Michelle Wibbelsman, are:
Alice Cheng (PhD Student in Arts Admin., Education, & Policy)
Amanda Tobin Ripley (PhD Student in Arts Admin., Education, & Policy)
Tamryn McDermott (PhD Student in Arts Admin., Education, & Policy)
Victor Vimos (PhD Student in Latin American Cultural & Literary Studies)
Hallie Fried (Majors: International Studies, Spanish; Minor: Public Policy)
Cameron Logar (Major: Biochemistry; Minors: Spanish, Andean & Amazonian Studies)
Micah Unzueta (Major: Spanish; Minors: Andean & Amazonian Studies, Education, International Studies)
Claire McLean (Majors: Linguistics, Spanish; Minor: Communication)
Learn more about these dedicated kawsay waqaychaqkuna (those who safeguard, keep and preserve with cariño and care) here.
Professor Wibbelsman and the curators engage in a unique combination of research, teaching, and outreach. Recent activities have included a Decolonization Storytelling workshop; interviews with poets and artisans; collaborative art-based activities with STEAM Factory such as the Stitching Our Community Back Together and Doodles projects; and the development of the upcoming Let's Just Talk podcast, which will feature dialogues on indigenous art, education, and more.
The collage below shows the student curators at work on these projects and, as Professor Wibbelsman explains, these photos "[follow] the model of action, activity and process reflected in Quechua language and in depictions of people always in the process of doing or making something in Andean art." 
The individual role of each student is just as unique as their backgrounds and their interests in the Collection. Victor Vimos recalls growing up in Riobamba, Ecuador and seeing Quechua craftsmanship change over time. He hopes to help bridge the gap between traditional Andean and Amazonian knowledge and new forms of dialogue. Alice Cheng is interested in rising attention to Indigenous art and how engagement with it can help deconstruct colonial thinking. Micah Unzueta is developing a Quechua verb wheel (Muyuchina) to deconstruct the language's morphology and provide learners with insights into Indigenous epistemologies.
Tamryn McDermott, who has also worked as a Graduate Research Associate with the collection throughout the academic year, finds that her involvement with this community has profound impacts on her teaching and doctoral work:
As I think through and develop ideas for a dissertation project, I find that practices and methods we employ within this collection are informing my thinking and it is exciting to consider how I can bring experiences from this work into my own classroom next fall semester.
One of Tamryn's recent projects has been photographing and providing online access to many of the collection' pieces. A few of her photos of the collection's diablada masks appear below, together with a peek at Tamryn's process.
Claire McLean has benefited both from the work and from the knowledge of her peers, with this new learning shaping her academic perspective: 
Through the collection and our close group of curators, I have learned so much meaningful knowledge not only about Andean indigenous art, culture, and spirituality, but also about the necessity of decolonization in modern classroom curricula.
Please join us in congratulating our student curators and thanking them for their many contributions to Andean and Amazonian studies at OSU!
Also stay tuned for more updates, including projects to be carried out in Academic Year 2022-23 by the Collection's incoming Graduate Research Associate Amanda Tobin Ripley.
---
The Andean and Amazonian Indigenous Art and Cultural Artifacts Research Collection is permanently housed in the Department of Spanish and Portuguese in Hagerty Hall 255 and supported by the Department of Spanish and Portuguese, the Center for Latin American Studies, and a generous private donation from Dr. Norman Whitten. To learn more about the collection please visit the AAAC website and the K'acha Willaykuna main website.
Advanced
News Filters:
---