February 15, 2023
Latin American Research Highlight: Prof. Nora Bello
Image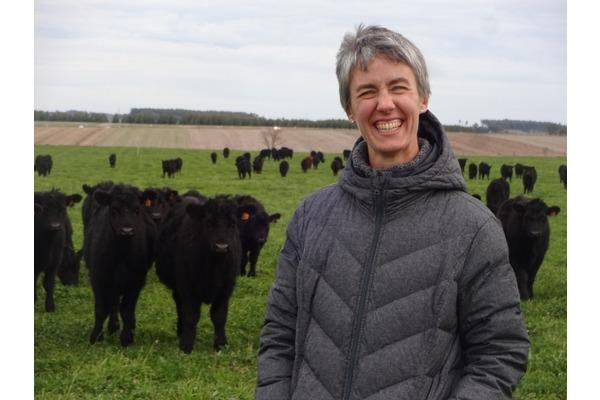 Description
 Statistical capacity building -- an Ohio State-Uruguay partnership
By: Ella Meyer, CLAS Student Intern, Spring 2023
Dr. Nora M. Bello, professor of statistics and systems modeling in the Department of Animal Sciences, was awarded a CLAS Faculty Travel Grant to fund capacity building work abroad in the summer of 2022. Bello's unique interdisciplinary background in statistics, veterinary medicine, and animal sciences allowed her to bring tailored quantitative expertise to Uruguay. Bello, who holds a doctor of veterinary medicine and a PhD in animal science, led a five-day technical short course on modern statistics for the agricultural sciences at the University of the Republic (Universidad de la República, Montevideo) and two research seminars, one at said university and another at the National Institute of Agricultural Research (INIA) Experimental Station "La Estanzuela." The exchange also included meetings with local researchers and their teams, and visits to local farms. 
In collaboration with her Uruguayan partners, Bello researched the effect of grazing techniques and diet supplementation and its effect on milk production of dairy cows. Bello stressed the importance of proper experimental design and statistical methods for data analysis.
"This research and capacity-building effort is problem-driven. We are looking for ways to more effectively and efficiently produce food from livestock," Bello explained. "In particular, this study was about producing milk. In research, part of answering questions has to do with designing experiments and collecting data. Once you get the data, you have to make sense of it. Statistics help us make sense of data, help us draw conclusions, and inform recommendations. One may then answer the question: what practices are worth the investment, which ones are not."
Bello used her extensive background in applied statistics to train her Uruguayan partners to use statistical methods to analyze data from local agricultural trials data. Capacity building helps local researchers gain valuable skills and techniques to facilitate future research projects and identify more effective and efficient solutions that local farmers can then implement in the field. Their joint collaborative work resulted in a research paper under peer review for publication.
Bello hopes that this project will help develop long lasting institutional bonds between research teams at Ohio State and Uruguay's University of the Republic and the National Institute of Agricultural Research. In summer 2023, Bello plans to conduct similar work in Argentina with partners at the University of Buenos Aires and the National University of the Littoral (Universidad Nacional del Litoral, Santa Fe), this time with support from an Office of International Affairs International Research and Scholarship Grant.
---