September 19, 2018
Justin Pinta Awarded Tinker Field Research Fellowship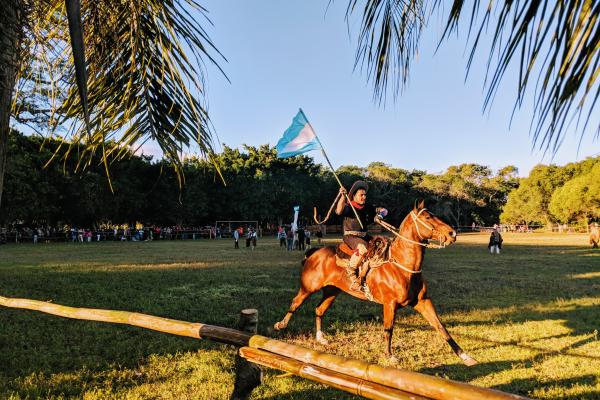 Tinker Fellow, Justin Pinta, received funds to travel to Loreto, Corrientes, Argentina to carry out fieldwork on Correntinean Guarani, an indigenous language spoken in rural northeastern Argentina. He pursued research regarding the link between this language and local identity, why some speakers are actively maintaining the language while others are abandoning it, and the extent to which these sociolinguistic factors manifest themselves in the degree of language mixture seen between this language and Spanish. 
Justin said of his experience, "Overall this trip was highly successful in that it focused the scope of my dissertation and overall PhD progress, expanded Ohio State's international academic presence, increased academic knowledge of this understudied language, and benefited the community of speakers in which I worked by demonstrating international interest in the language and encouraging its role in the local education system." Justin is a graduate student in the Hispanic Linguistics Ph.D. program at Ohio State.
The Tinker Foundation's Field Research Grants Program is designed to provide budding scholars with a first-hand experience of their region of study, regardless of academic discipline.  The grants provide graduate students with funds for travel to and within Latin America to conduct pre-dissertation research.  These awards allow students to acquire a comprehensive knowledge of language and culture, familiarize themselves with information sources relevant to their studies, conduct pilot studies and preliminary investigations, and develop contacts with scholars and institutions in their respective fields.
CLAS affiliates will be invited to attend "Tinker Talk" round table events throughout the year that feature the research progress of our Tinker Fellows. 
News Filters:
---